Outdoor Stoves – A Bonk & Co Field Guide.
Vol. 2 of our Field Guide arrives just in time for this great stretch of weather here. This issue is all about Fire Pits, Outdoor Fires and Stoves. Your old faithful living room stove may have seen its last log until next winter so let's move outside and enjoy all the benefits there!
1. Girse Outdoor Stove
Handmade in Germany, the Girse fireplaces are made of stainless steel (3 mm thick), can be used as a barbecue as well as a stove to keep you warm in the summer evenings. The stainless steel construction allows you to leave your fire place outdoor all year long, even during winter. The stainless steel BBQ grate is standard equipment. Hinges on the fireplace frame, with easy adjustment in four different heights, and a practical ash tray made for easy cleaning. Available in three heights. Type 1 – 195cm, Type 2 – 225cm and Type 3 – 265cm. And three colour options. Black, Silver-Grey and Brown.
2. Rais Ra
The Rais Ra is a solid outdoor fire pit which cannot be made in a simpler way. And that really leaves the fire shown to the best advantage. The basin is situated loosely in the ring, so that it can be adjusted horizontally. Or slightly tilted against the wind. A beautiful fireplace which would make its mark in many places. Produced in best quality – the raw steel has gone through an outdoor oxidation process: wind, temperature changes and rain have jointly created the beautiful, natural patina. Stands best on underlay of soil, stone or concrete.
3. Rais Angle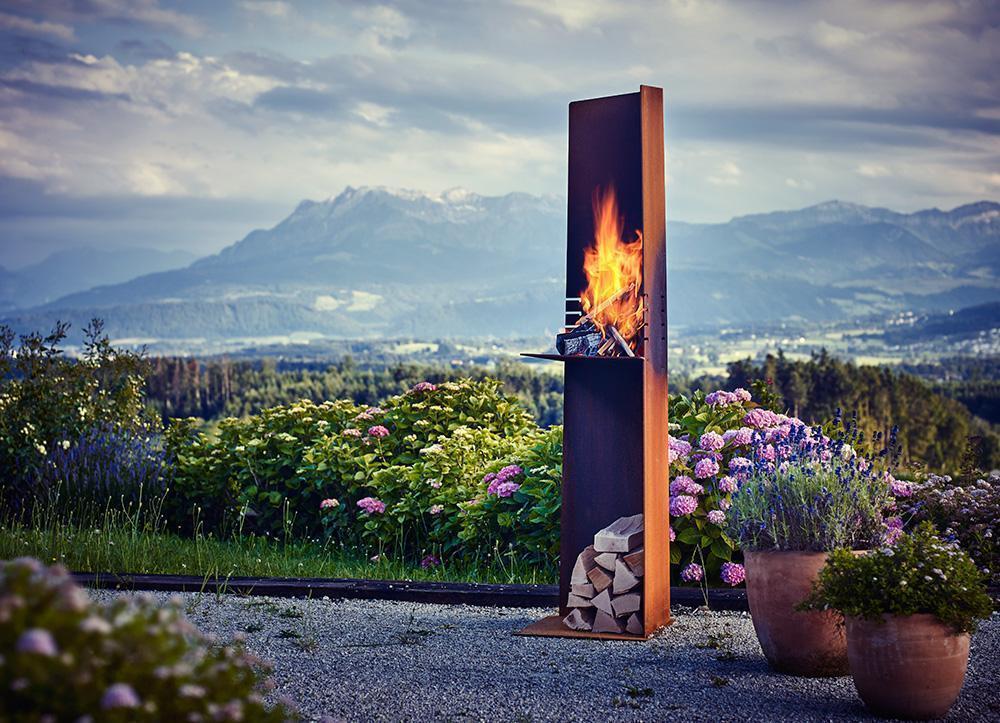 The Rais Angle – a graphic, sculptural grill for beach or patio. Eye-catching centrepiece for cosy gatherings and outdoor cooking. Naturally patinated. A different angle to a garden fire, move over fire pits and let's raise the height up to eye level so  everyone can see! Stack your logs in the base and keep the fire burning all night long.
4. Harrie Leenders Spot
Harrie Leenders is a Dutch manufacturer of really nicely designed wood burning stoves, so when it comes to them creating an outdoors stove they didn't come up short! The Spot gives you a combined wood store and outdoor stove with a rugged look that will give you a great feature on your deck or garden patio. The firewood is always within easy reach, and that makes for comfortable warmth. Due to its small size, smart design and safe construction you can place it anywhere in the garden.
Get the G&T's ready, sit back and enjoy your new outdoor stove!